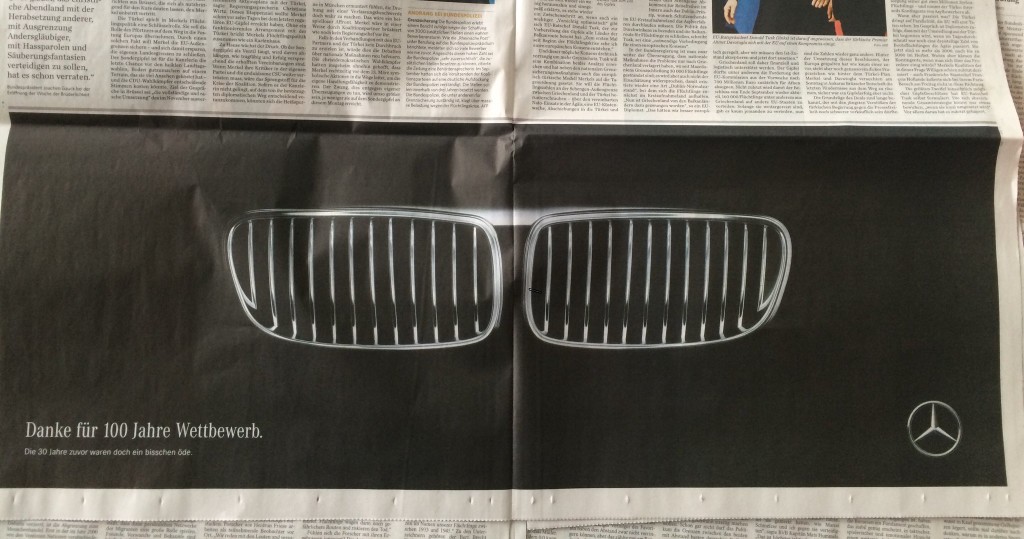 The centenary of BMW: best wishes from Mercedes and Porsche
10 Mar 2016
In the last few days it was the hundredth anniversary of the BMW foundation, a brand which has actively contributed to spread the German engineering efficiency all over the world. It must be why two of its German greatest rivals decided to celebrate this event by publishing flashy advertisements simply in order to express their best wishes to their BMW colleagues.
Mercedes has surprised everyone by representing in a whole newspaper page the typical BMW car front together with these words: Thank you for 100 years of competition. A bit lower, with small letters, it says: The previous 30 years were actually a bit boring. Besides the clear reference to the fact the Mercedes tradition is anyway longer than BMW's, their wishes seem to be sincere and authentic; especially if you think of the present Mercedes gave to their rivals. In fact the Mercedes museum on Stuttgart has offered free entrance to any BMW employees who visited it between the 8th and 13th of March.
The Porsche initiative was a little bit more conventional but not less inspired. Within its announcement the BMWi8, the electric car produced for this anniversary, is portrayed next to the Porsche Mission E concept, another electric Supercar. The message says: The future presents us with great challenges. We face them with sheer driving pleasure. Porsche bows to 100 years of moving automobile history and wholeheartedly congratulates BMW on this jubilee. The competition between the two companies is not as direct as the one with Mercedes and this makes their wishes even more unexpected and admirable.
We all know very well the humorous and sarcastic inclination of the producers for advertising. In the past they had already created real tit for tats in a competition to catch the customers' attention. This circumstance, though, brought them to a higher level which requires to be (or at least appear) classy but also we would like to think of true mutual respect being involved.
It is inevitable to wander: don't Audi and Wolkswagen say anything?