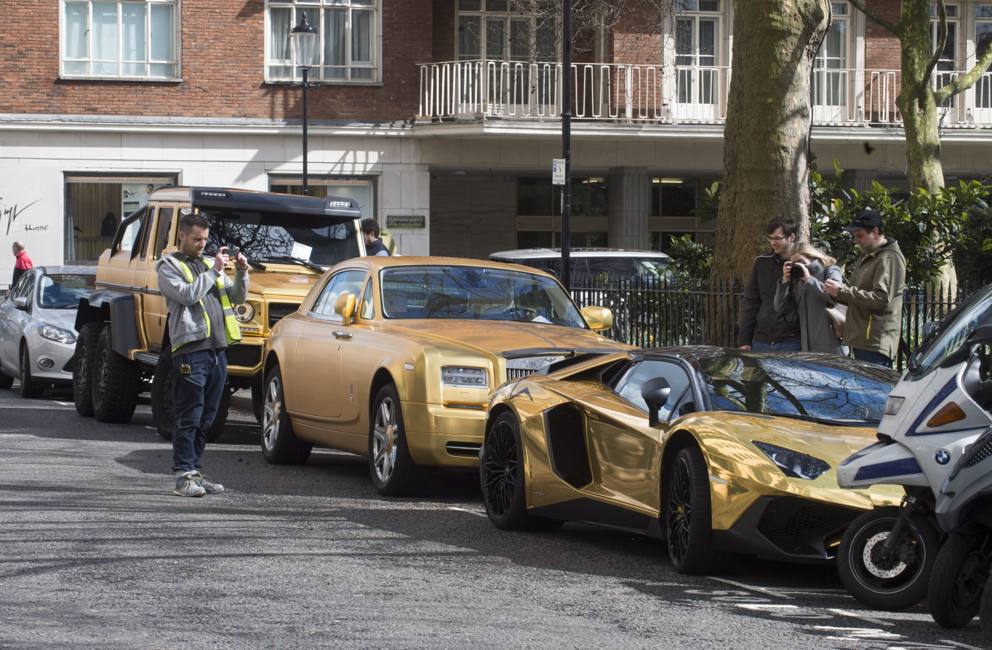 Golden cars in London
22 Apr 2016
Supercars have always had the ambition of being charming and able to attract admiration and astonishment but sometimes this seek for excellence turns out to cross the line and produce vulgar and gross results. That line is sometimes difficult to find but this is not the case we are talking about here: there are four golden cars which have been wandering in London for many days and they all seem to yell "look at me!". In one of the Instagram photos loaded on the owner's profile you can even see a cheetah on one of the car seats and with the safety belt meticulously fastened.
These vehicles could be fairly adored. As a matter of fact they are a Lamborghini Aventador SV, a Bentley Flying Spur, a Mercedes G63 and a Rolls Royce. The four shiny car bodies are harmoniously running through London gathering tickets every time they stop somewhere but a few hundreds pounds will very unlikely concern the wealthy owner of these jewels.
This person is Turki Bin Abdullah, descendant of a very rich Saudi family which has connections with the king himself.
The social media are not very focussed, though, on the man behind all this and this is also probably due to Saudi Arabia interests in not spreading the facts. Wikipedia dedicates a very poor page to a Riyadh's former governor, son of the former king, but it could also be a namesake.
Those who get the most benefit out of this are once again car factories which gained visibility and prestige and also, more concretely, have been paid about a million and a half dollar which is the cost of the four golden vehicles.