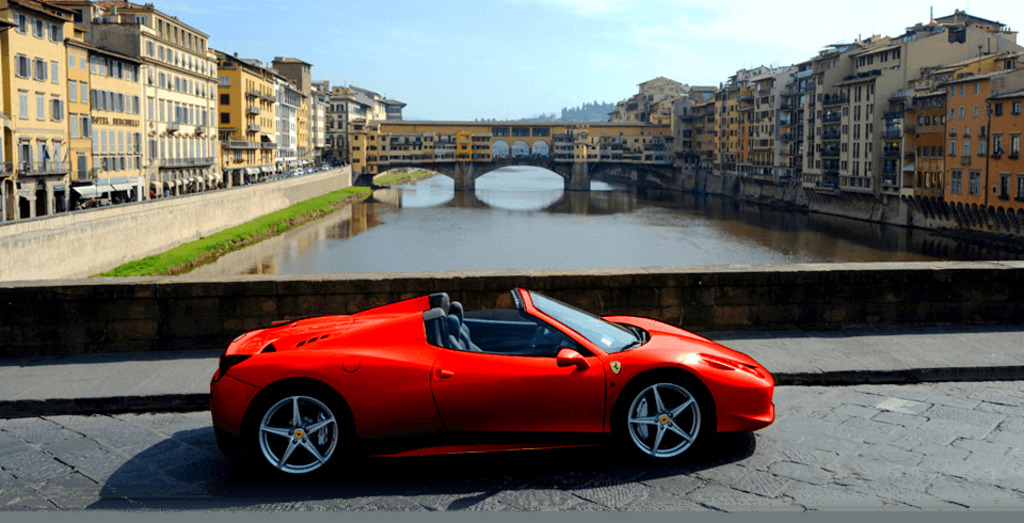 Ferrari rental in Florence
11 Mar 2016
Florence was the cradle of the Renaissance and birthplace of some of the greatest artistic treasures that humanity has ever created. This traditional heritage is still nowadays a source of fame as well as a business card of the city itself and this, in turn, brings Florence great benefits and not only financially speaking. Florence keeps many masterpieces in its galleries and museums but it is also concretely built and constituted by some of them such as Ponte Vecchio, the Basilica of Santa Croce, the Cathedral of Santa Maria del Fiore, Piazza della Signoria. The city is a big and unique living masterpiece itself and that is why the linkage with Ferrari springs up spontaneously in our brains.
The so called Cavallino rampante , the luxury icon within the car world, is basically a sort of Florence in its field: a masterpiece.
Whatever you might want to see and visit in Florence, it will be naturally inserted in an atmosphere of the refined tradition, and the eternal elegance that the city is able to evoke in our mind simply by its name. Likewise, no other name than Ferrari can wake our brains up with a sense of purity and perfection. This is something which goes well far beyond the car performances, its accessories and technical details; it is something embedded in the car essence, in the same way as Ponte Vecchio is a symbol which goes beyond its function as a bridge.
Renting a Ferrari will grant you an experience of magic, because Florence will embrace you when passing through its Uffizi and Accademia Galleries in an endless romantic dream you will not be awaken from. Make a unique and great art work out of your trip: call us now and rent your Ferrari choosing one of our special holiday packages.